Spot-Free Windows With a Water-Fed Pole System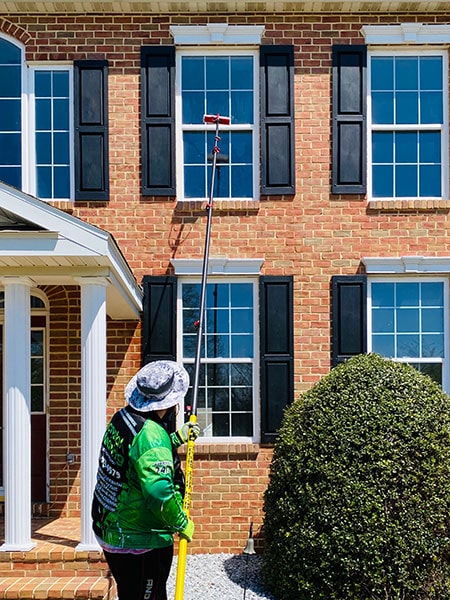 Traditionally, window cleanings were conducted by technicians climbing atop a ladder and washing windows with a squeegee and a cloth. That process not only takes a lot of time and effort but is risky, intrusive, and requires harsh chemicals. Sometimes the results wouldn't even be as good as you wanted them to be: the cleaning could leave behind residue or leftover detergent that attracts dust and grime.
The new water-fed pole system is a convenient, safe, environmentally-friendly, and efficient window cleaning solution for all buildings. Best of all, this system provides a clean finish better than ever before.
The water-fed pole system means that the Crystal Cleaning crew members can work safely from the ground rather than on unstable ladders. The poles are lightweight and extendable and have brushes attached for scrubbing. Purified water emerges from the pole to provide the following benefits:
The removal of accumulated dust and grime from the window panes
No dissolved particles remain in the water, which means a cleaner and softer finish on your windows
A spot-free rinse on your windows
The efficiency of a water-fed pole system means that Crystal Cleaning technicians can clean more windows in less time, with better results than before. The extendable feature means we can effortlessly clean multiple stories of your property.
Purified water is created onboard Crystal Cleaning's washing vans through a 4-stage filtration system called an RO/DI (reverse osmosis, deionization) machine removing impurities through a series of filters and membranes purifying the customer's supplied water pumping it back out of the water fed pole minimizing hard water stains and spots upon drying on the glass surface.
Complete Window Services From The Inside Out
We don't just stick to the outside when providing window cleaning services. At Crystal Cleaning, we know that the inside of your windows can become equally dusty or grimy with age or use. Our cleaning crews contain talented staff with expertise in a wide range of cleaning practices.
We don't just clean the window panes but pay attention to every detail, including window frames and any blinds or window fixtures. We can provide a detailed cleaning of your interior windows, so they are equally clear and beautiful whether you're looking in or looking out.
Keep Your Windows Clean On Your Schedule
At Crystal Cleaning, we provide flexible scheduling possibilities for our clients and never require a commitment to a contract. If you need one deep window cleaning, you can schedule that. Alternatively, if you want to schedule monthly window cleaning services, we can arrange for that as well. Whatever you prefer, we can plan it, so your windows always remain clean and beautiful.