Same-Day Emergency Cleaning Services
A fast response is essential for mitigating property damage. We understand this at Crystal Cleaning and are ready to provide you with professional cleaning services as soon as possible. Responding quickly to a crisis lessens the damage to your building and reduces future costs that would go toward repairs.
Crystal Cleaning can address many common emergency scenarios, including:
Flooding and storm damage
Overflowing toilets, bathtubs, sinks
Vandalism including graffiti and property damage
Leaking appliances, water heaters, and plumbing
Weather damage
Sewage backups
Fire and smoke damage
Flooding from firefighting efforts
Water Cleanup and Restoration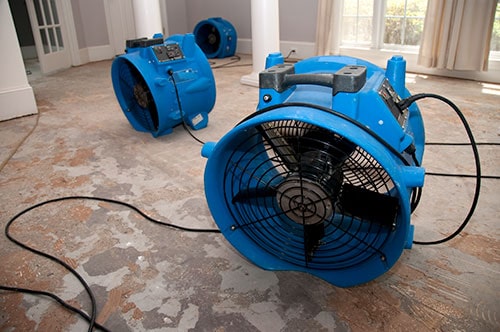 When you are dealing with water damage, your response is time-sensitive. If the water is not removed and the damage is not repaired right away, your home could develop severe mold and mildew among other problems.
The trained Crystal Cleaning crew members will arrive as soon as possible to remove standing water with shop vacs and our mobile equipment. The technicians use industrial fans and closely monitor the drying process to verify that your property is dried thoroughly and the risk of mold is decreased.
After performing water extraction services, our technicians can also provide disinfection and sanitizing services. Our ULV500 Disinfectant Spray is full of all-natural organic ingredients, while our eco-friendly fogging system sanitizes rooms and removes harmful bacteria.
How Our Team Protects Your Property
The Crystal Cleaning team is always at our most professional when visiting your property. Our service team arrives equipped with various protective equipment, which guarantees that our crew cleans your property without causing any unnecessary damage or mess. Our protective measures include:
Hard hats and eyewear when working on construction sites or elevated areas
Tyvek suits, masks, and goggles while disinfecting or sanitizing or handling strong cleaning solutions
Air movers and scrubbers
Green booties and gloves for all technicians
Traffic cones to protect traffic from our work crews and vans
Neoprene mats over hardwood floors and surfaces
Hose guards and corner guards to eliminate the risk of scratched walls or baseboards
Tarp zipper doors to help our crew move in and out of your property in the least disruptive way
To put property owners at ease, we are always willing to explain the techniques and equipment we use to clean your property.
If you have experienced disastrous flooding on your property,
contact Crystal Cleaning
immediately for our comprehensive emergency cleaning services.