Use Power or Pressure Washing Services from Crystal Cleaning
Power washing and pressure washing are similar techniques used to clean hard surfaces with tough stains. What's the difference between these two deep-cleaning techniques?
Power Washing

Uses a jet with heated water, making it easier to clean surfaces of all dirt and deep stains.

Pressure Washing

Uses a jet with unheated water, using the force of the water to knock off dirt and grime.

Soft Washing

Soft washing is a cleaning method that uses a low-pressure washing technique, along with a mixture of algaecides, bleach, surfactants, and water, to safely clean exterior surfaces of organic stains, mildew, and algae.
Think about washing dishes with hot water and how easily grease and stuck-on food are removed. Power washing also uses hot water to lift and remove the toughest stains on your sidewalk, driveway, and other hard surfaces.
Crystal Cleaning crews will arrive at your property with our all-wash pneumatic system van. These portable power washing and pressure washing vehicles allow us to provide our cleaning services with minimal equipment crowding your property and with minimal cleanup required.
Restore Your Deck or Fence
Power washing and pressure washing services can be especially effective on hard surfaces like decks and fences:
Pressure washing is beneficial for loosening all dirt and grime from these outdoor surfaces. Your fence and deck collect dirt by being exposed to all kinds of weather and conditions throughout the year.
By utilizing the pressure washing services of Crystal Cleaning, you can clean these broad surfaces much faster than you would by scrubbing by hand. Pressure washing covers large areas much faster than any other cleaning technique, which is especially useful for decks and fences. You will be amazed at how much dirt can be removed from your fence and deck!
Hard Surface Cleaning Services
If you have seen your concrete or brick driveway or sidewalk go from bright and clear to dark and dingy, you can return these surfaces to their former condition through power and pressure washing. Crystal Cleaning can provide power and pressure washing services for your home, including:
Pressure washing can remove set-in stains on these rough surfaces and make your concrete sparkle again. Cleaning your sidewalk and driveway is an excellent way to increase your curb appeal without spending money on constructing a brand new driveway. With a deep clean and wash from Crystal Cleaning, your exterior home surfaces can look brand new again.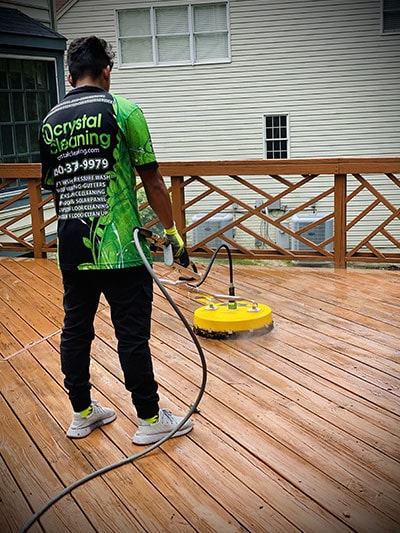 Schedule One Deep Cleaning or Annual Treatments
Crystal Cleaning is committed to providing our customers with the flexible schedule they desire. Depending on your property's needs, you can choose to schedule just one deep cleaning of your fence, deck, or hard surfaces, or you can schedule regular appointments.
If your property experiences regular exposure to dirt, weather, vehicles, and more, you may consider scheduling an annual deep cleaning of your exterior surfaces. Whatever you prefer, we can meet your needs.
We offer free estimates for your cleaning job. To schedule your free estimate, you can call us at 410-379-9979 or fill out our online contact form.