Sanitation and Disinfection Services for Building Interiors
Commercial properties experience frequent foot traffic both inside and outside. With so many people coming and going and various surfaces being touched throughout each day, it is crucial to maintain regular sanitation services.
By trusting Crystal Cleaning with your sanitation and disinfection services, you can ensure that your building interiors remain not only beautiful but hygienic as well. Our interior services include:
Doors, frames, and baseboards
Hardwood floor cleaning
Carpet cleaning
Tile and grout cleaning
Sanitizing and disinfecting all kitchen appliances and countertops
Sanitizing and disinfecting all bathroom surfaces
Blinds, window fixtures, furniture, and light fixtures
Windows, window wills, mirrors, and sliding glass doors
The Crystal Cleaning team uses the best green cleaning products and techniques available to provide a long-lasting and refreshing interior cleaning service.
Deep Cleaning For Your Exteriors
If the exterior surfaces of your commercial property don't look their best, you may be failing to make the impression you want to make on visitors. Fortunately, you don't have to settle for less-than-stellar siding, roofing, or pavement anymore. The Crystal Cleaning team is trained to provide the following exterior commercial cleaning services:
You can trust the Crystal Cleaning crew to remove any unsightly mold, algae, chipped paint, or signs of age on your fences, sidewalks, roofs, and more. Your building will soon be returned to its former beauty.
How Our Team Protects Your Building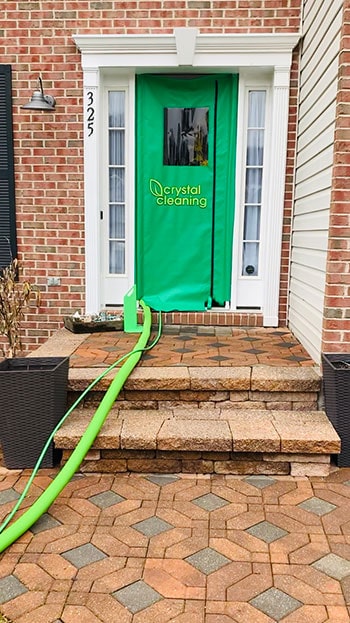 The Crystal Cleaning team is always at our most professional when visiting your property. You can spot our custom uniforms and vans with our bright green and black color scheme.
We use numerous protective equipment to guarantee that our cleaning crews don't leave behind any dirt or damage. Our protective measures include:
Hard hats and eyewear when working on construction sites or elevated areas
Tyvek suits, masks, and goggles while disinfecting or sanitizing or handling strong cleaning solutions
Green booties and gloves for all technicians
Traffic cones to protect traffic from our work crews and vans
Neoprene mats over hardwood floors and surfaces
Hose guards and corner guards to eliminate the risk of scratched walls or baseboards
Tarp zipper doors to help our crew move in out of your building in the least disruptive way
Our team members are happy to explain the materials and equipment we are using to clean your property. We appreciate that property owners want to understand the cleaning materials used in their space, so we make that information transparent.
Crystal Cleaning Is On Your Schedule
Crystal Cleaning is committed to providing our clients with fair rates and flexible scheduling.
We understand that you need to fit your cleaning schedule around your business, so we provide a variety of scheduling options based on your needs:
One deep cleaning treatment
Move-in and move-out cleanings
Market-ready cleanings
Post-construction cleaning services
Weekly appointments
Biweekly appointments
Monthly appointments
We don't require our customers to remain locked into a contract. You can select your ideal cleaning schedule and then change it if needed.
To schedule your free estimate, you can call us at 410-379-9979 or fill out our online contact form.