Effective Washing Treatments For Commercial Siding
A commercial building wash can help remove dirt, debris, and stains from your building's siding or exterior surfaces. This is accomplished through a combination of soft washing and power or pressure washing if needed:



Soft Washing

Uses a low-pressure washing technique with a mixture of algaecides, bleach, surfactants, and water, to safely remove organic stains, mildew, and algae.




Power Washing

Uses a jet with heated water, making it easy to clean surfaces of all dirt and deep-set stains




Pressure Washing

Uses a jet with unheated water, using the force to knock off surface dirt and grime
Our technicians often begin treatment with soft washing, as it is the gentlest method. However, our cleaning method will be determined by the individual materials of your building, as well as the types of mold, algae, rust, or stains present. Often, a combination of washing methods provides the best results.
Complete Roof Cleaning Services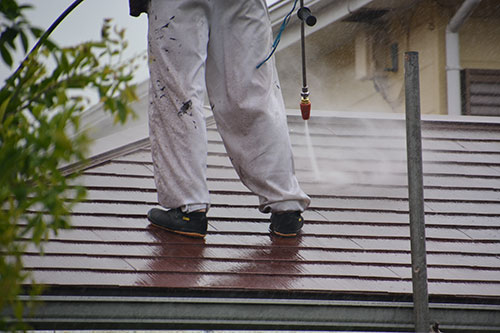 If your property's roof is becoming unsightly and discolored due to the growth of mold, mildew, algae, and lichen, a soft washing treatment can restore it.
Unlike pressure washing, soft washing uses a mix of low-pressure water and deep cleaning soap to soak the surfaces and not only remove surface dirt but kill the organic material that grows there. This clears away all current dirt and algae and keeps them from returning for a long time. Soft-washing is essential for roof cleaning services because of the gentle, low pressure that protects your shingles and roof materials from damage.
Roof cleaning services also include gutter cleanings. If your gutter remains clogged with dirt and debris, it can cause serious problems for your building. By cleaning your gutters, you can avoid costly repairs in the future.
Spot-Free Window Cleaning Services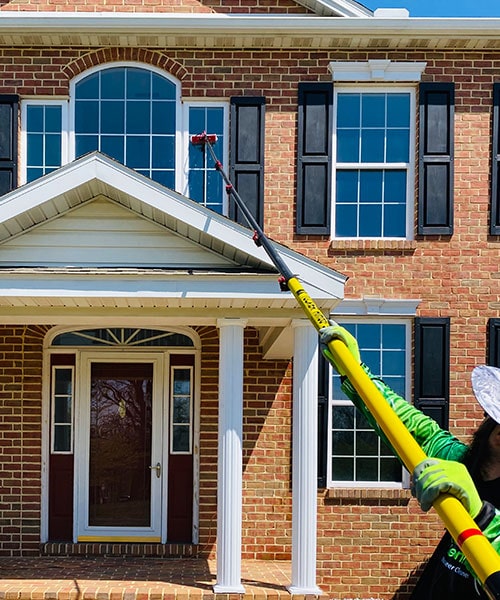 The final touch of your commercial building wash are spot-free window cleaning services. Nothing can turn off a customer or client faster than grimy, dusty windows or doors greeting them as they arrive at your business.
At Crystal Cleaning, we use a water-fed pole system that is safe, convenient, environmentally friendly, and efficient. The use of lightweight, extendable poles means our technicians can reach windows on multiple stories safely and effortlessly. Purified water emerges from the pole to remove accumulated dust and grime from the windows and leave a spot-free rinse behind. The efficiency of this system means that we can clean more windows in less time, with stunning results.
Purified water is created onboard Crystal Cleaning's washing vans through a 4-stage filtration system called an RO/DI (reverse osmosis, deionization) machine removing impurities through a series of filters and membranes purifying the customer's supplied water pumping it back out of the water fed pole minimizing hard water stains and spots upon drying on the glass surface.