Keep Your Roof Sturdy and Beautiful with Soft Washing Services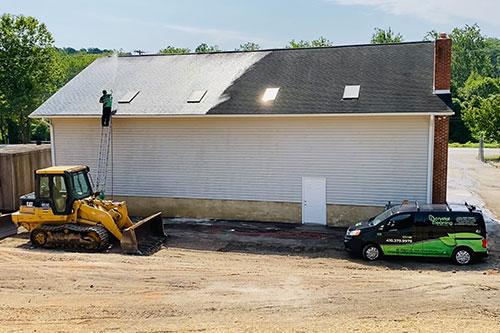 When we clean your roof, we use soft washing techniques to provide your roof with a deep, long-lasting clean that is gentle on shingles and other sensitive roof materials. Soft washing is one of the best ways to clean and revive roofs of all varieties.
Unlike power and pressure washing, soft washing uses a mix of low-pressure water and deep cleaning soap to soak the surfaces and not only remove dirt but kill mold and other organic material. Soft washing services ensure that mold, mildew, algae, and lichen will be removed and won't return after the cleaning treatment. Because soft washing uses low-pressure water, you don't need to worry about damage to your shingles or roof materials.
Crystal Cleaning crews will arrive at your property with our all-wash pneumatic system van. These mobile soft washing vehicles allow us to provide our customers with excellent soft washing services without crowding your property with equipment.
Include Gutter Cleaning Services for a Complete Clean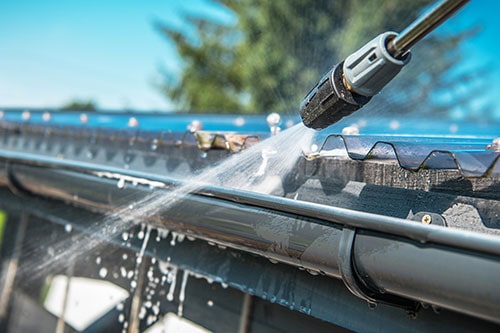 Crystal Cleaning recommends adding gutter cleaning to your roof washing services. A clean and clear gutter is essential not only for improving the appearance of your roof but preventing severe damage in the future. If you let gutters stay clogged and dirty, you put your building at risk for the following:
Gutters can overflow with water during storms. This water can cause a leaky roof or water damage to the inside and outside of your building.
Water overflow can soften the foundation of your building, weakening the structure and its safety.
Dirty gutters can create a home for rodents, pests, mold, and bees.
When you schedule your roof washing services, be sure to consider gutter cleaning as well. By selecting complete roof cleaning services, you prevent the possibility of unexpected and expensive repair projects in the future.
Create Your Crystal Cleaning Schedule
Crystal Cleaning provides our customers with flexible scheduling options. We can provide one-time roof washing services or schedule our services on a monthly or bi-annual basis. Whatever you prefer, the Crystal Cleaning team will be there to restore your roof and gutter to their best condition.