Disinfecting and Sanitizing All Services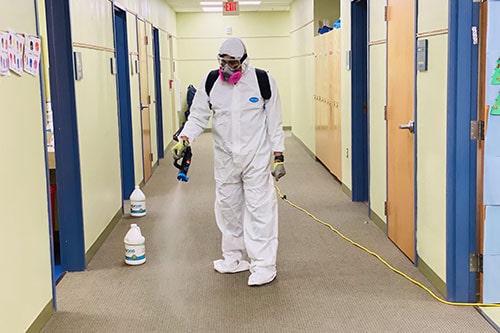 The Crystal Cleaning crew is trained in the most up-to-date and in-demand cleaning services to meet our clients' expectations.
Our technicians are all licensed, bonded, and insured to clean your property thoroughly and carefully. In high-touch areas of your property, surface cleaning is one way to prevent the spread of bacteria and viruses. The Crystal Cleaning crew will provide a deep clean to your interiors, touching minor details up to the largest surface areas.
We consider every detail of your home and always use the best green cleaning services available to provide a gentle yet long-lasting clean.
Sanitation and Disinfection Without Relying On Harsh Chemicals
At Crystal Cleaning, we are committed to eliminating as many harsh and abrasive chemicals as possible in our cleaning treatments. Whenever possible, we use non-toxic and biodegradable cleaning products to protect the health of the people and properties in our community.
We train our employees in the best green cleaning techniques so they can complete their work efficiently and effectively. Our crew utilizes a variety of green cleaning products and tools when sanitizing your property, including:
Eco-friendly degreasers and cleaners
Hot extraction processes
HEPA vacuums
ULV500 Disinfectant Spray full of all-natural ingredients
Eco-friendly Fogging System that controls and removes harmful airborne bacteria and viruses
Crystal Cleaning's commitment to avoiding harsh and dangerous chemicals means that we can provide complete sanitizing services without filling your property with harmful products that linger and cause irritation.
The Benefits of Disinfection Fogging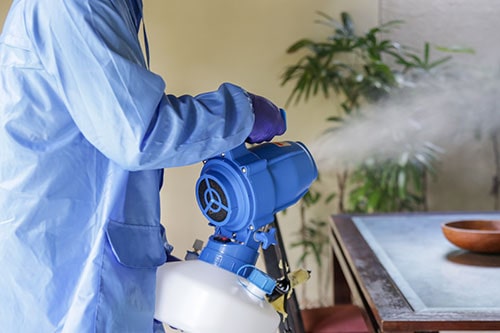 One of the most efficient ways Crystal Cleaning disinfects your building is through disinfection fogging. This process occurs after a manual surface clean. Then, the disinfectant is poured into a fogging machine before being released into the room's atmosphere as a fog or mist.
By turning on the fogger, we are atomizing the disinfectant product and putting it into the air. The fog then settles throughout the room and disinfects surfaces, including locations difficult to reach by hand. Fogging is also helpful for cleaning sensitive electronic equipment and high-impact areas like desktops, keyboards, doors, and doorknobs that cannot be easily cleaned by hand.
Dry fogging disinfection can provide that extra layer of protection, which can help put your mind at ease regarding the health and safety of your indoor environment.
Sanitation and Disinfection On Your Schedule
Crystal Cleaning is committed to providing our clients with flexible scheduling options.
Depending on your sanitizing and disinfecting needs, you can arrange for:
One deep cleaning treatment
Weekly appointments
Biweekly appointments
Monthly appointments
We don't require our customers to commit to long-term contracts, so you can find the schedule that works best for you. You can select the plan you feel comfortable with today and change it if necessary.