Spotless and Chemical-Free Solar Panel Cleaning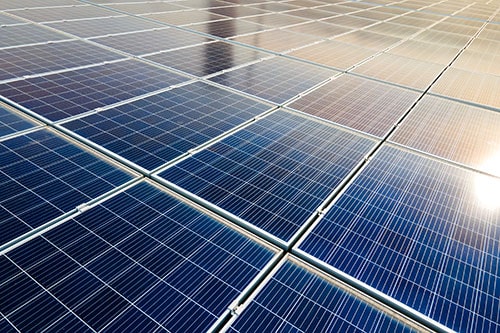 Solar panels should never be cleaned with soap, as it can leave a film or residue that shades panels as much as the dirt that was sitting there. Soap can also encourage dirt to stick and build up faster. To clean your solar panels, Crystal Cleaning uses a water-fed pole system that uses brushes and purified water to clean the panels of all dirt and grime. When using this system, our crew members can avoid using dangerous ladders, heavy equipment, and squeegees that leave behind streaks or residue.
The poles and their gentle scrub brushes and deionized water remove all dirt and leave behind no film, no sticky residue, and no spots. The water is free of chemicals, so you can rest assured that you aren't leaving that harsh residue around your property. The poles are lightweight and extendable, so our technicians can clean your panels more quickly and efficiently than before, no matter where they are located. Your solar panels will be left spotless and stay that way for much longer than before.
Purified water is created onboard Crystal Cleaning's washing vans through a 4-stage filtration system called an RO/DI (reverse osmosis, deionization) machine removing impurities through a series of filters and membranes purifying the customer's supplied water pumping it back out of the water fed pole minimizing hard water stains and spots upon drying on the glass surface.
Schedule Regular Solar Panel Cleanings
Because dirt can impact the effectiveness of solar panels, regular washing may be recommended to ward off reduced output and efficiency. If you have flat solar panels, they are more likely to let water pool and collect, creating a muddy residue once the water evaporates. If your solar panels are near trees or shrubbery, you may also need regular cleanings to remove leaves and bird droppings.
If you are concerned about dirt or grime collecting on your solar panels and impacting their performance, you can schedule regular cleanings with Crystal Cleaning at the intervals you prefer. We can schedule monthly, bi-monthly, or yearly cleanings for our clients, and we never require a contract commitment. We always provide our customers with flexible scheduling options so they can find the cleaning arrangement that works best for their needs.